Keeping track of caring for all of your plants can be overwhelming—especially if you have a lot of them! Our free printable plant care tracker can help.
Whether you have houseplants, outdoor planters, a vegetable garden (or all of the above!), sometimes it's tough to remember when you last watered or fertilized them. And when exactly did you last rotate your container plants?
No worries! Our free plant care tracker printable can keep track of all of this for you.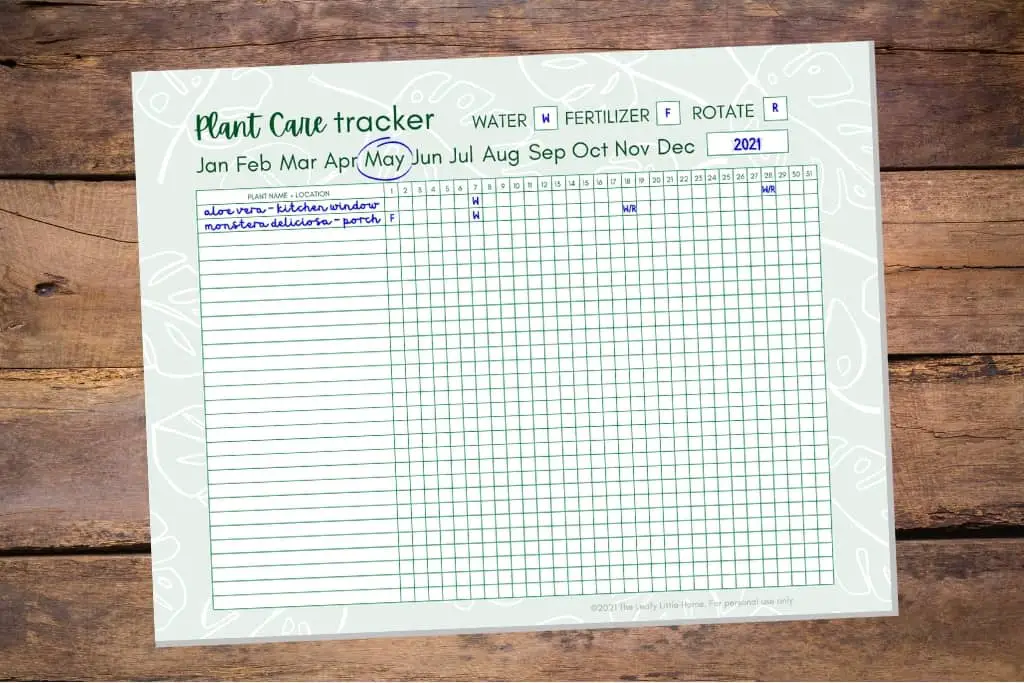 You can use our monthly plant tracker for years to come—just fill in the year and circle the month. The letter-sized tracker fits in a three-ring binder (there's room for hole punching at the top or bottom), and you can print it in color or black + white.
There's plenty of room to list all of your plants, plus space for each plant's location—perfect for when you're traveling and someone else is caring for your plant babies.
You'll be able to customize your tracker with the symbols or colors you like best to show when you've completed a plant care task. You might want to have a simple W be your symbol for water. Or, use a blue highlighter or even a water droplet symbol to show when you've watered a plant—it's up to you!
Just pop your first name and email in the form below, and we'll send over your free printable plant care tracker right away.
Get YOUR FREE PLANT CARE TRACKER!
Always forgetting to water or fertilize your plants? Our free plant care tracker printable can help with that! Help your plants thrive (with less stress for you!) Just let us know where to send your free printable, and it's on its way.
By signing up you agree to receive the Leafy Little Home newsletter. Unsubscribe at any time.
Read our latest posts for more plant care and inspiration!