Cooking with in-season produce just makes sense, whether you're an avid gardener or you support local growers at the farmer's market. But finding delicious recipes with winter vegetables can be challenging!
Although summertime is peak gardening season, and we all look forward to growing (or buying) ripe, juicy tomatoes, crisp bell peppers, and versatile summer squash, the winter season's crops are great for making comfort food.
If you're in the mood for nutritious and filling winter vegetable recipes, I'm sharing 13 of my very favorites that use the season's best produce.
What vegetables are in season during the winter?
There are actually lots of vegetables that do well in cold climates! Here's a list of some of the winter vegetables you should look for to make in-season recipes during the colder months:
Beet
Belgian endive
Broccoli
Broccoli rabe
Brussels sprouts
Cabbage
Carrot
Cauliflower
Celeriac
Celery
Chicory
Curly endive (frisée)
Fennel
Jerusalem artichoke
Kale
Kohlrabi
Leek
Parsnip
Potato
Rutabaga
Shallot
Sweet potatoes
Turnip
Winter squash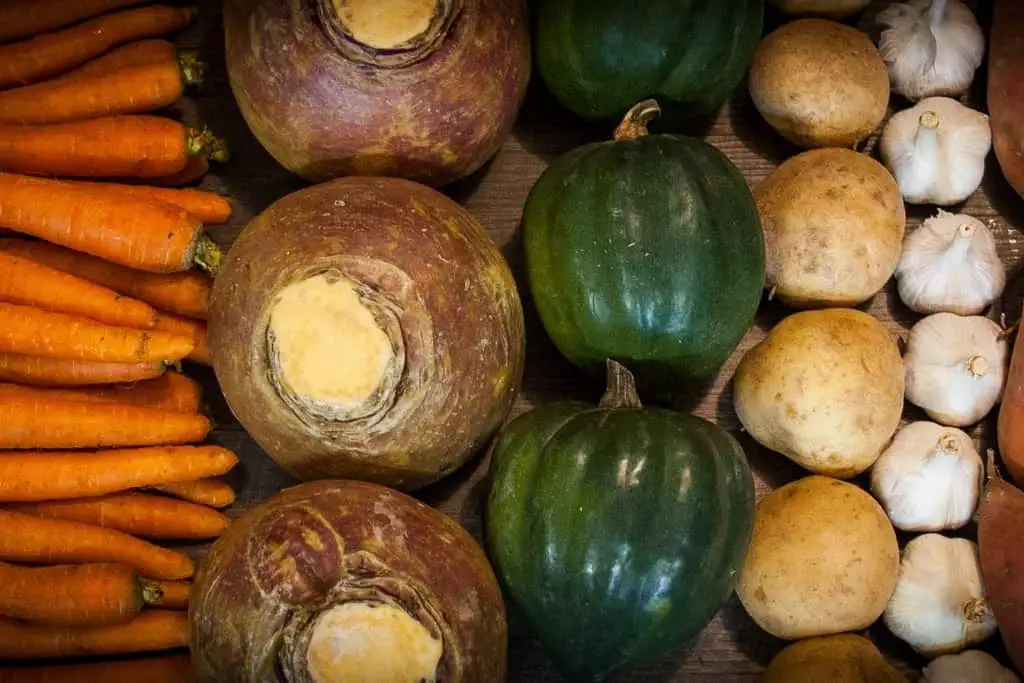 Disclaimer: we may receive a small commission when you make a purchase from a link on this site, at no added charge to you. See our disclosure policy for more info.
Soups and stews
What's better on a freezing-cold day than to warm up with a hot bowl of soup? These winter vegetable soups and stews are perfect for the chilliest days.
Rustic Roasted Winter Vegetable Chowder
This chunky chowder is chock-full of butternut squash, sweet potatoes, parsnips and other winter veggies. It's so yummy paired with crusty bread for a hearty winter lunch. You can easily make it dairy-free and vegan just by swapping out the milk with a nut or oat milk.
by Kitchen Treaty – get the full recipe here
Winter Vegetable Soup
Whenever I have a winter cold, a steaming bowl of classic vegetable soup always makes me feel better. This paleo-friendly winter version includes sweet potato and your choice of chicken or turkey—a great way to use up your holiday leftovers!
by Paleo Leap – get the full recipe here
Roasted Root Vegetable Soup
A velvety bisque, this root vegetable soup features roasted and puréed onion, Granny Smith apple, sweet potato, butternut squash and carrots. Serve it topped with a drizzle of honey, curls of fresh Parmesan and chopped walnuts or pecans to bring it to the next level.
by The Gourmet RD – get the full recipe here
Side dishes and salads
Winter vegetables are so versatile as hot or cold side dishes. You can roast them, make a refreshing slaw, or even purée them to serve as a buttery mashed potato alternative. Yum!
Easy Roasted Winter Vegetables
This sheet pan side dish is super easy and quick to prepare, but fancy enough for guests. Hearty sweet potato, Brussels sprouts, and purple potatoes are the stars, and the recipe is jazzed up with the addition of dried cranberries and candied pecans.
by Simple Healthy Kitchen – get the full recipe here
Roasted Brussels Sprouts and Butternut Squash With Medjool Dates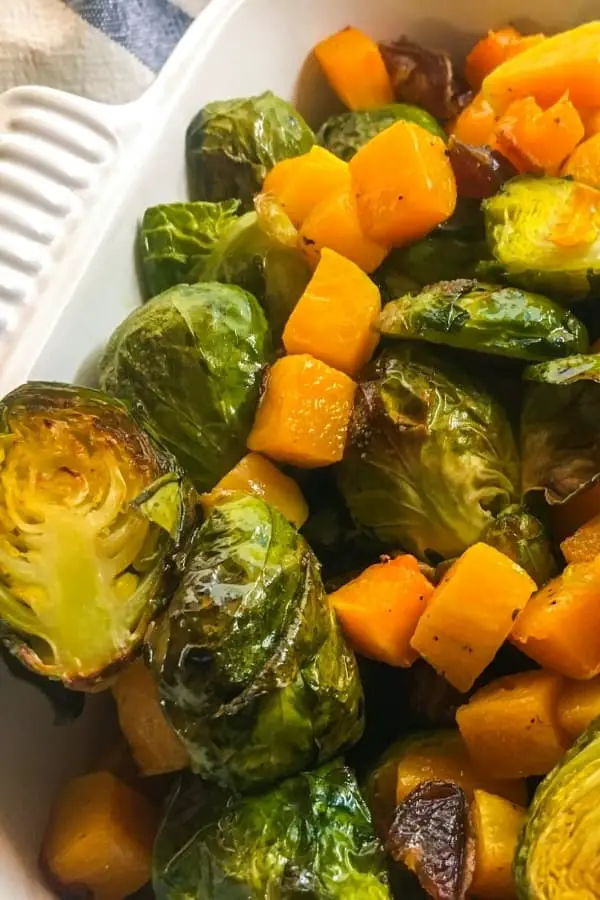 One of my favorite recipes with winter vegetables is this easy Brussels sprouts and butternut squash side dish. It's made with clean ingredients: healthy oils, salt and pepper, and a tiny bit of added sweetness from the dates.
Think you don't like Brussels sprouts? This recipe will change your mind! Roasting the sprouts until they caramelize and just begin to char removes any bitterness from the veggies and turns them nutty-sweet.
It's even Whole30 compliant, paleo, gluten-free, dairy-free, and vegan.
by The Leafy Little Home – get the full recipe here
Warm Winter Vegetable Salad
Salads are often served cold, but why not try a warm salad in the winter? Packed with winter vegetables, quinoa, and leafy greens, serve this salad to accompany your meal and save the leftovers for lunch. The creamy yogurt-based dressing is a cool accompaniment to the warm roasted veggies.
by Whole Food Bellies – get the full recipe here
Winter Root Vegetable Purée
Do you love mashed potatoes as much as I do? They're my favorite comfort food, but creamy, buttery mashed potatoes can be so high calorie. Try some different root vegetables for a lighter version of mash! This recipe combines turnips, parsnips, and celery root—packed with so much flavor you won't need to add all that butter.
by Noble Pig – get the full recipe here
Winter Vegetable Slaw with Easy Citrus Vinaigrette
Sometimes I crave a cooler, lighter salad, even in the winter. This citrusy slaw uses winter vegetables including two types of cabbage, kale, and carrots. Shred it up fast in your food processor, and mix it with the citrusy vinaigrette for a little taste of summer in the wintertime.
by Salad Menu – get the full recipe here
Main courses
Winter Vegetable Shepherd's Pie
Traditional shepherd's pie with ground lamb and mashed potatoes is delicious, but this veggie recipe with a cheesy potato crust is to-die-for. Bursting with winter vegetables including carrots, parsnips, cauliflower, and Brussels sprouts in a creamy sauce, once you try this you may never go back to the classic version!
by Art of the Pie – get the full recipe here
Winter Vegetable Buddha Bowl 
Along with spinach and feta (one of my favorite combos), this salad adds butternut squash, Brussels sprouts, and chickpeas roasted in a spicy blend of sesame oil and chili powder. Top it with the quick and easy tahini dressing for a filling lunch or lighter dinner.
by Show Me the Yummy – get the full recipe here
Instant Pot Turmeric Chicken and Root Vegetables
My Instant Pot has become a game-changer in the kitchen over the last few years (if you're thinking of getting one, I highly recommend the 9-in-1 version.) This quick and delicious chicken recipe with parsnips, carrots and sweet potato creates a creamy, delicately spiced sauce all in one pot. Plus it pressure-cooks in only 20 minutes!
by The Roasted Root – get the full recipe here
Roasted Winter Vegetable Lasagna
Doesn't a piping-hot pan of homemade lasagna sound perfect on a chilly winter day? Make one with winter vegetables including carrots, cauliflower, and spinach to pack in some extra nutrients. This version is a classic recipe with tomato sauce and ricotta, but it uses no-boil lasagna noodles to save time.
by Joanne Eats Well With Others – get the full recipe here
Winter Vegetable Vindaloo
Vindaloo, a traditional Indian dish with tomato, vegetables, and spices is perfect for incorporating winter veggies. This recipe uses potatoes, carrots, and cauliflower, but feel free to add whatever you have on hand—it's a great way to use up extra root vegetables and leafy greens. Serve it with fragrant basmati rice for a complete meal.
by Garden Fresh Foodie – get the full recipe here
Spiralized Winter Vegetable Gratin
Cheesy potatoes au gratin is a yummy cold-weather side dish, but why not turn it into a vitamin-packed main course with spiralized winter veggies? Parsnips, butternut squash, and sweet potatoes get the zoodle treatment (I like to use my KitchenAid spiralizer attachment to make them fast), then they're coated with a creamy, cheesy sauce with Gruyère and Parmesan and baked until golden brown. Perfection!
by Pure Wow – get the full recipe here
What are your favorite recipes with winter vegetables? Have you made any of these? Let us know in the comments below!
Pin this for later!
Sign up for The Leafy Little Home newsletter to hear all the latest news and read our newest posts.
By signing up, you agree to receive The Leafy Little Home newsletter. Unsubscribe at any time.