Do you want to create a boho aesthetic in your home, with lots of houseplants? This warm, inviting style is perfect for plant lovers.
You've probably noticed the look if you spend any time on Instagram or Pinterest. Boho's cozy vibe is all over social media, and it almost always includes houseplants.
Here's how you can get that same look in your home, and incorporate your current and future plants—with boho decorating, you can always add more plants!
What is the boho aesthetic?
Boho, short for bohemian, incorporates natural materials, cozy textures, global-inspired patterns, and vintage-style furniture. The bohemian style is unique to each person—you can style a fairly neutral room with pops of color from your plants or accessories, and add a variety of textures for interest. Or, you could make it a more vibrant look by mixing in more colors and patterns.
Bohemian style is inspired by artists, creatives, and free spirits. An eclectic mix of styles from around the world and from various decades, boho results in a hand-curated style that's very personal and very cozy!
For all of us houseplant fanatics, boho is the perfect style for incorporating our collection of plant babies. Whether you're just starting with houseplants or you have hundreds, incorporating plants into your boho aesthetic will turn your home into a relaxing oasis.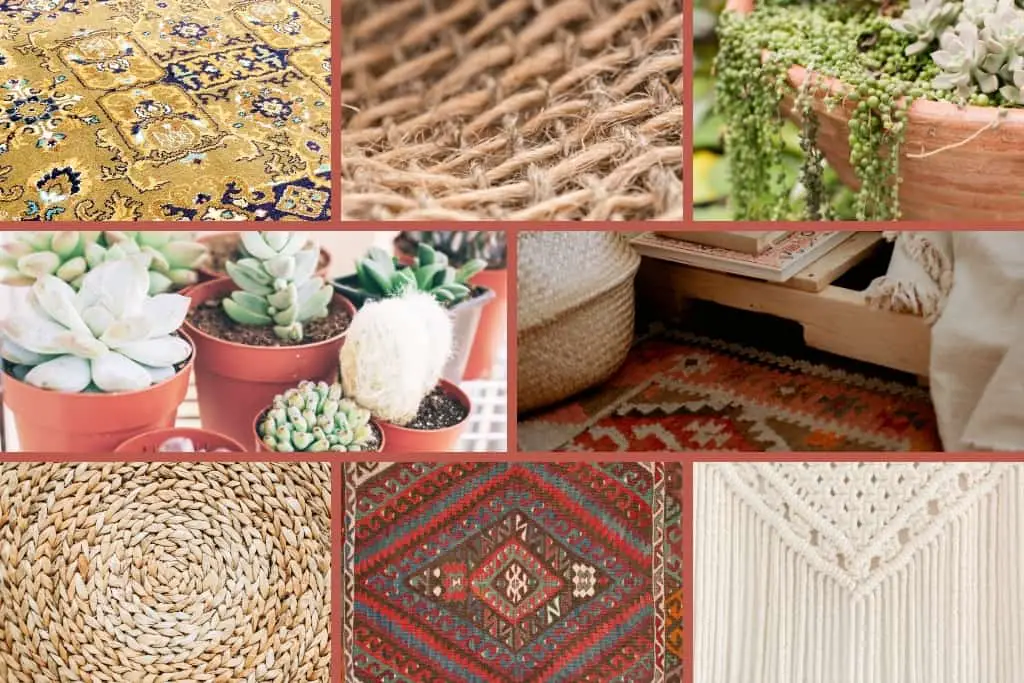 Disclaimer: we may receive a small commission when you make a purchase from a link on this site, at no added charge to you. See our disclosure policy for more info.
Essential boho decorating elements
When you're styling your space with a bohemian look, it's all about incorporating your favorite pieces to make the room your own. But—here are some design elements that can really give your home that boho vibe.
Warm and neutral colors
Woven baskets and planters
Wicker and rattan
Wood shelving
Fringes and tassels
Textured pillows
Cozy vintage furniture
Macramé plant hangers and wall hangings
Candles and lanterns
Neutral or global-inspired rugs
Fairy lights or strings of globe lights
Quirky midcentury-style ceiling fixtures, floor and table lamps
Warm metal accents (gold, brass)
Chunky blankets and throws
Hanging or standing basket chairs
Poufs and ottomans
Pops of color
And tons of houseplants, of course!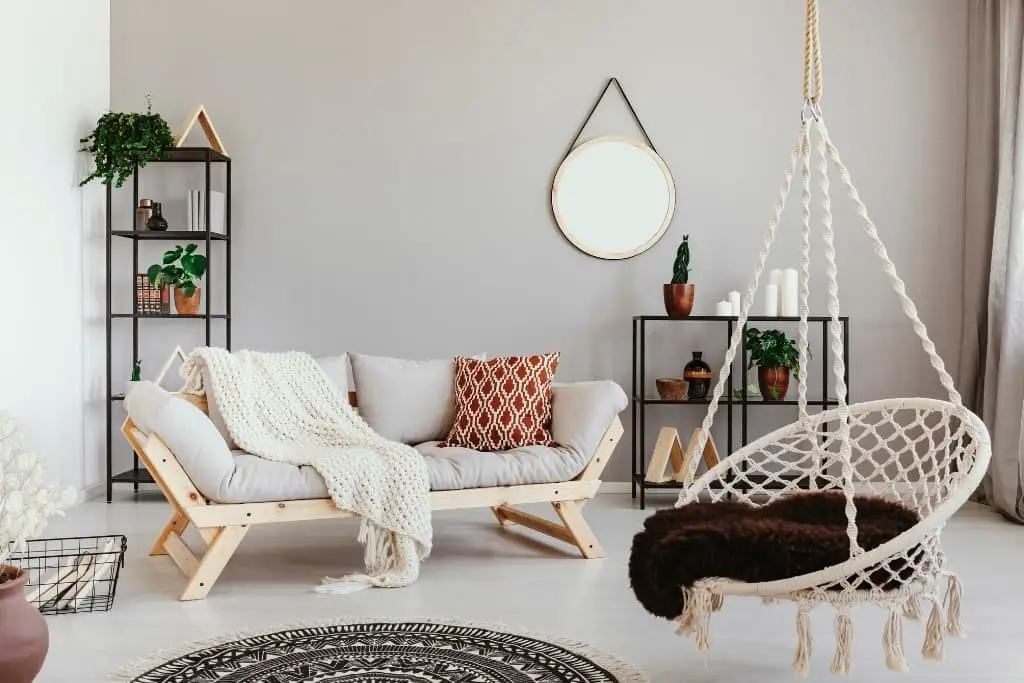 You may also like: How to Macramé: Tying the Basic Macramé Knots
Elements to avoid for a boho aesthetic
Boho doesn't have any hard-and-fast rules. If you have furniture or an accent piece that you love, you can always find a way to incorporate them into a room. That said, here are some basic guidelines for what you should try to avoid too much of if you really want a boho look.
Very dark walls or furniture (although a couple of darker items can help ground a room)
Overly fussy pieces
Matching furniture sets—mix them into different rooms if you can
Overly modern or antique looks—though a few pieces worked in can look great
Minimalist or sterile looks
Too much of one theme in a room (nautical, beachy, etc)
Cool-toned metal elements (chrome, silver, platinum)
A monochromatic color scheme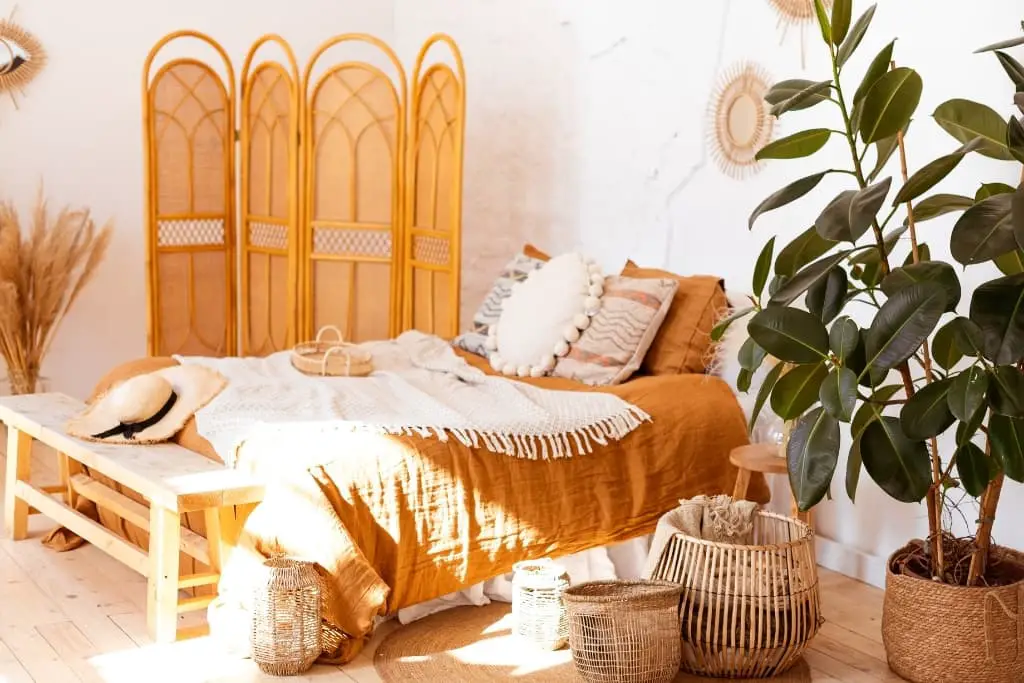 Best houseplants to get that boho look
Although any houseplant will work with boho style (no plant snobs here!), you should aim to have a mix of different sizes, leaf colors and patterns, as well as plants that can live on the floor, on stands or shelves, and in hanging baskets.
Here are some popular houseplants that can help you create a boho vibe in your home:
Groups of succulents
Monstera deliciosa or adansonii (Swiss cheese plants)
Pothos or philodendrons (trailing or climbing up a moss or jute pole)
String of pearls (or dolphins, turtles, fishhooks)
Cacti
Snake plants
Rubber tree (Ficus elastica)
How to style your houseplants in the boho aesthetic
Houseplants can really make your bohemian style come alive, and the more plants the better!
You'll want to give each plant a unique home with a mix of textured and smooth cachepots in solids and interesting patterns. Aim for a look that's been curated over time instead of a collection of matchy-matchy pots.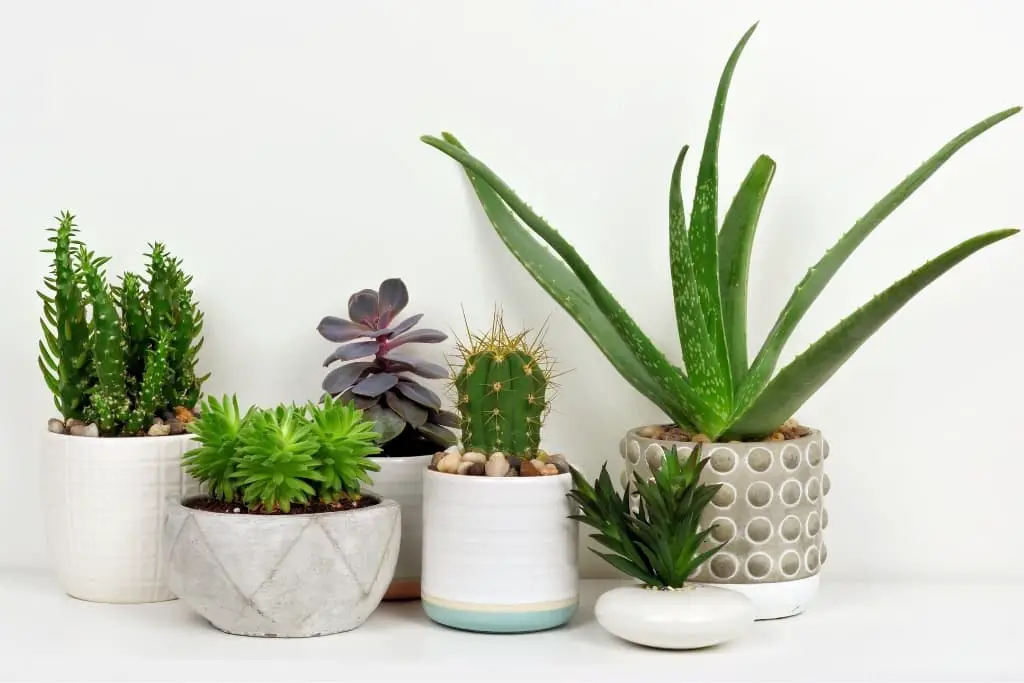 Tall tropical houseplants are right at home in the boho style, and look great in wicker, rattan, or woven coverpots in neutral colors or bold stripes.
Hanging plants can trail down from macramé plant hangers, leather or jute cords, or from tall shelves and plant stands. Instead of having one lonely plant hanging in the corner, hang a few of them for impact. Plants like friends, too!
Check out these DIY indoor plant hanger projects for some easy-to-make boho looks.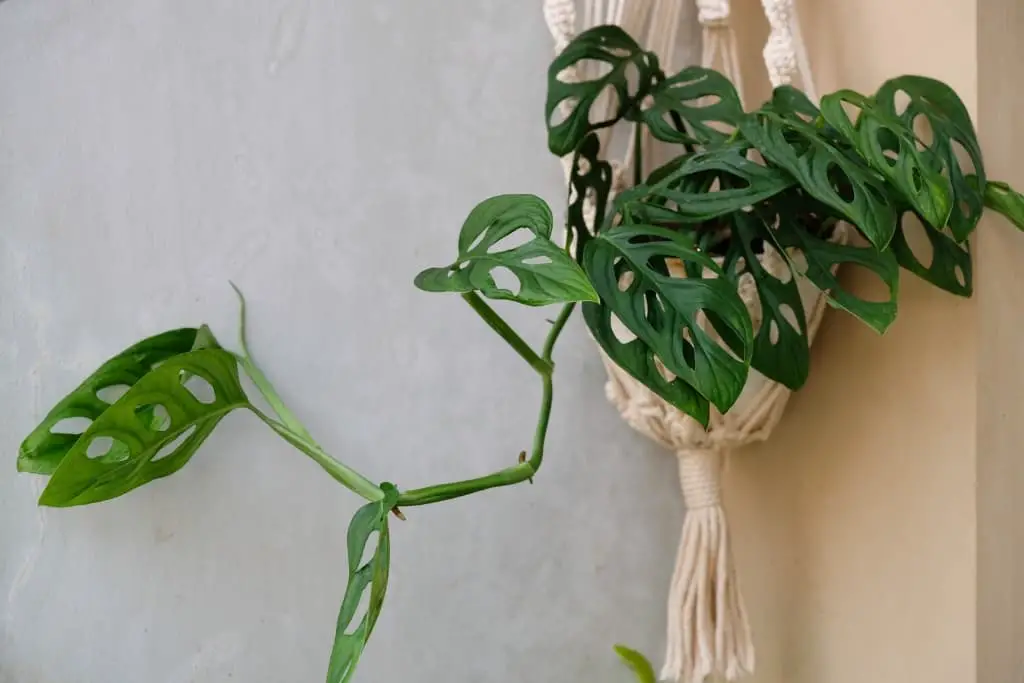 Statement plant walls are right at home in boho style. Install floating shelves, or add round wall hangers so you can display a collection of smaller plants in pots right on your wall.
If you're unable to install plant holders on your walls, you can still create a plant wall with removable hooks that won't damage the paint (I've had good luck with these clear ones). You won't be able to hang heavy plants, but you can display small succulents, air plants, and even cuttings you're propagating. Hang your containers with jute, thick twine, or leather cord.
You may also like: How to Water Succulents in Containers
Shopping list to help add houseplants to your boho aesthetic:
Whether you're decorating in mainly neutrals with just a little color, or your style is more eclectic and bright, check out this shopping list to help you incorporate houseplants into your boho space.
Pin this to save for later!
GET A FREE PLANT CARE TRACKER!
Sign up for the Leafy Little Home newsletter, where we share plant tips and inspiration to turn your space into a green oasis. Plus, we'll send you a handy printable Plant Care Tracker, absolutely free!
By signing up you agree to receive the Leafy Little Home newsletter. Unsubscribe at any time.