Decorating your home for the holidays with houseplants is a festive way to bring cheer to your winter celebrations. Here are 15 beautiful Christmas plants to add to your holiday décor.
When it comes to Christmas decorating, you probably think of spruce wreaths, kissing balls, and swags of greenery to brighten your home, along with the tree, of course! But there are lots of houseplants that also add an extra-merry touch to your living space.
During the winter the outdoors can look a bit gloomy—trees have lost their leaves, color is gone from the garden, and the sun sets early. Why not make your indoor space a cheerful oasis by adding some holiday houseplants?
Plus, all of these festive holiday plants can last long after the Christmas season is over, with just a little TLC.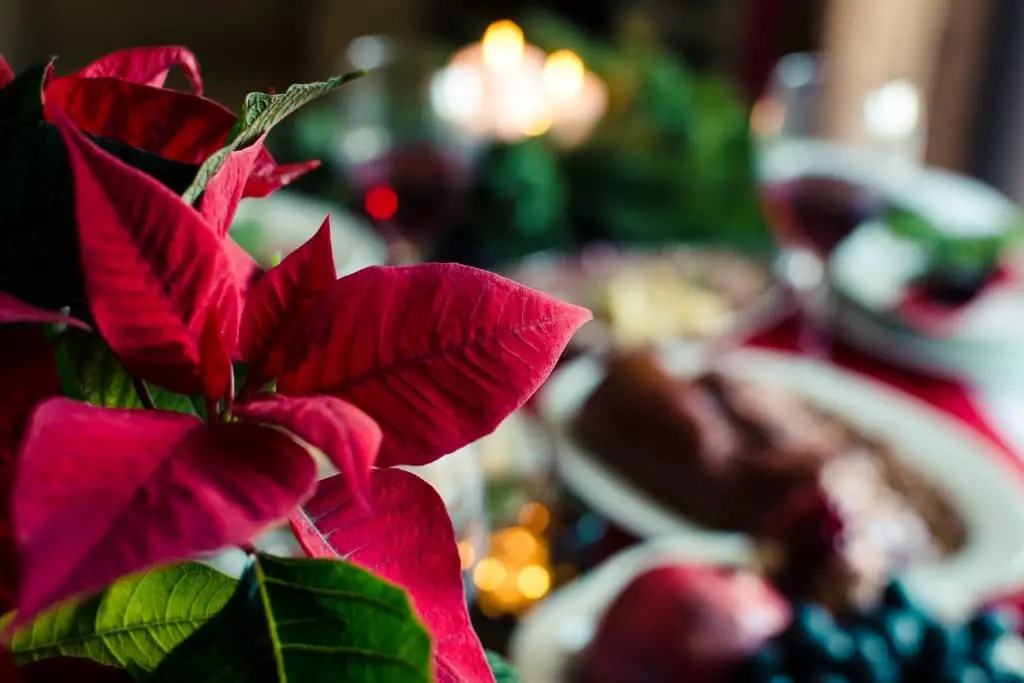 Disclaimer: we may receive a small commission when you make a purchase from a link on this site, at no added charge to you. See our disclosure policy for more info.
Norfolk Island pine (Araucaria heterophylla)
Petite Norfolk Island pines make perfect tabletop displays for small spaces, especially if you don't have room for a full-size tree. Its delicate, feathery foliage looks so festive decorated with lights or just a few simple ornaments.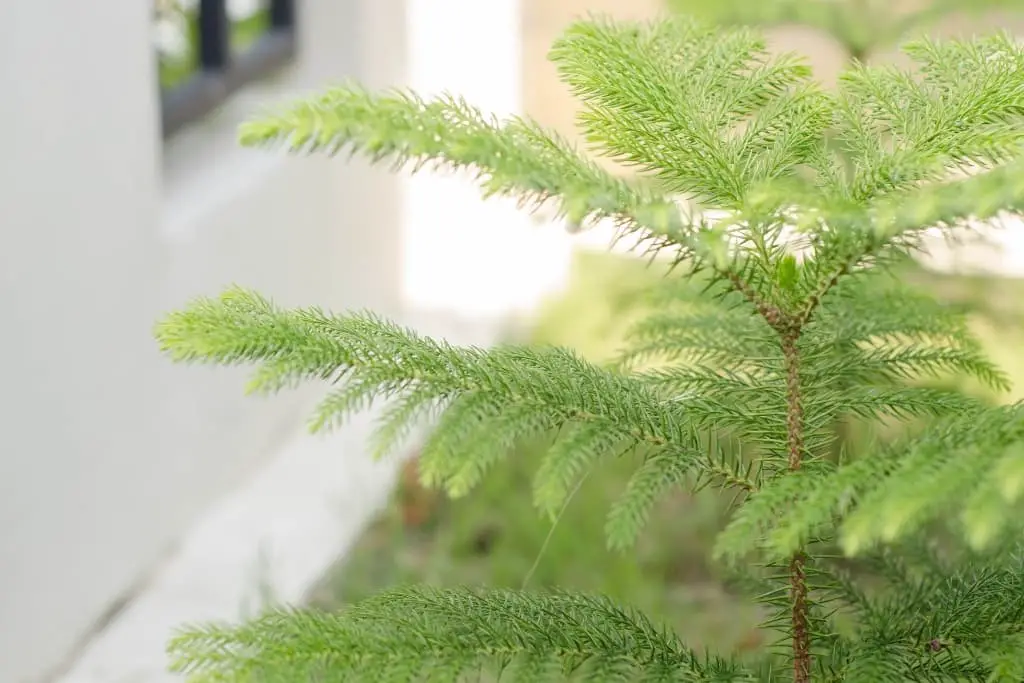 If you decide to decorate your Norfolk Island pine, be sure to use the smallest and lightest decorations you can find, to avoid damaging its branches. (I like these tiny LED lights with a timer).
You can keep your evergreen indoors year-round in a sunny spot, or let it summer outside—this plant is native to its namesake island in the South Pacific, so it enjoys full sun.
Norfolk Island Pines can eventually grow up to eight feet tall indoors, but can be cut back if they get too big for your space.
Christmas cactus (Schlumbergera bridgessii)
Christmas cactus is a beloved holiday houseplant that shows off its blooms in December. This succulent's flowers come in a range of colors, including red, orange, white, pink, salmon, fuchsia, and yellow. There's bound to be a Christmas cactus that matches your holiday color palette.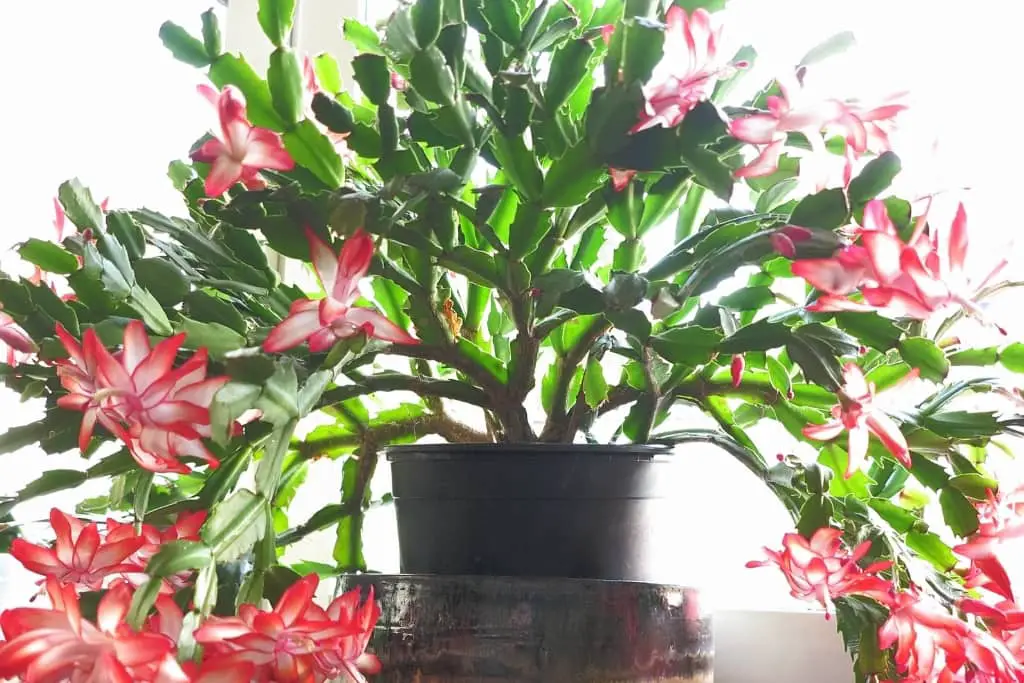 Christmas cactus will enjoy a year-round home in a sunny east- or west-facing window. You may even be rewarded with another round of blossoms between March and May!
When getting ready for the holidays next year, you'll need to prep your plant for December blooms by placing it in a dark area (a closet works well) for 12-14 hours a day for a few weeks, just until new buds form.
Rosemary (Salvia rosmarinus)
If you've never grown your own rosemary, you're in for a holiday treat! Not only can this shrubby herb adorn your home as a festive holiday plant, but it smells divine!
Snip off a bit when you're making your holiday meals—the fresh leaves add so much flavor to potatoes, poultry, stuffing, veggies, and more.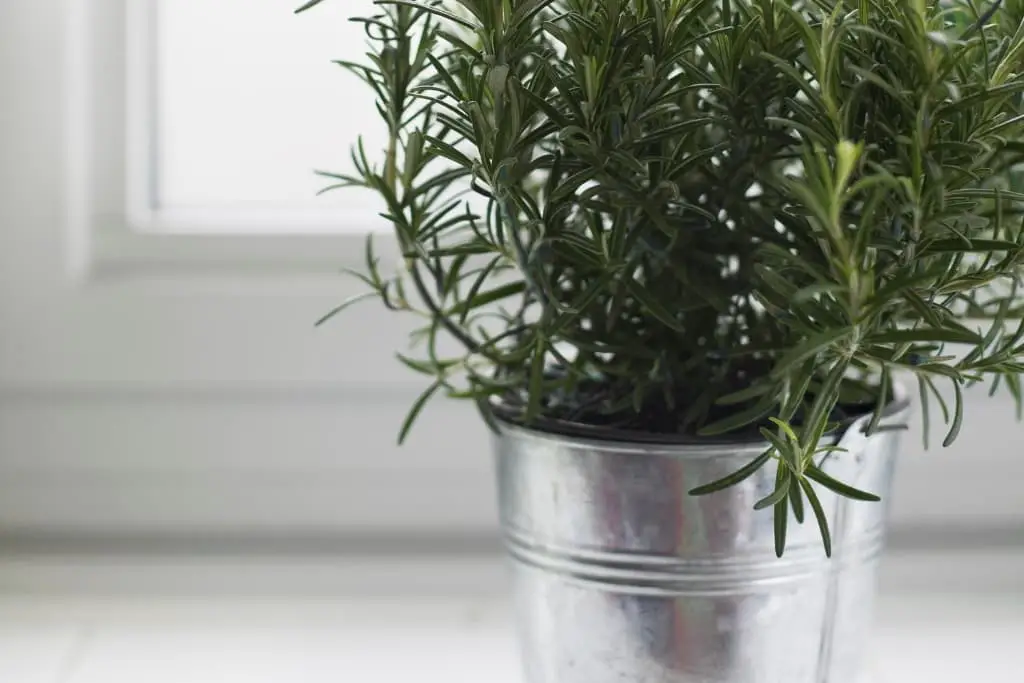 During the winter, keep your rosemary plants on a warm, sunny windowsill with good air circulation. Potted rosemary plants can live outside in warm weather, in a spot that gets six to eight hours of sun each day. Be sure to bring your rosemary inside before the first frost.
Poinsettia
The festive poinsettia has long been an iconic Christmas plant with its cheery red star-shaped bracts. Today, you can also find white, pink, yellow, purple, salmon, and even variegated poinsettias.
Poinsettia often gets a bad rap for being toxic to cats—but even kitties who munch on a bit of the plant will likely only end up with an upset stomach.
Read more: 15 Houseplants That Are Toxic to Cats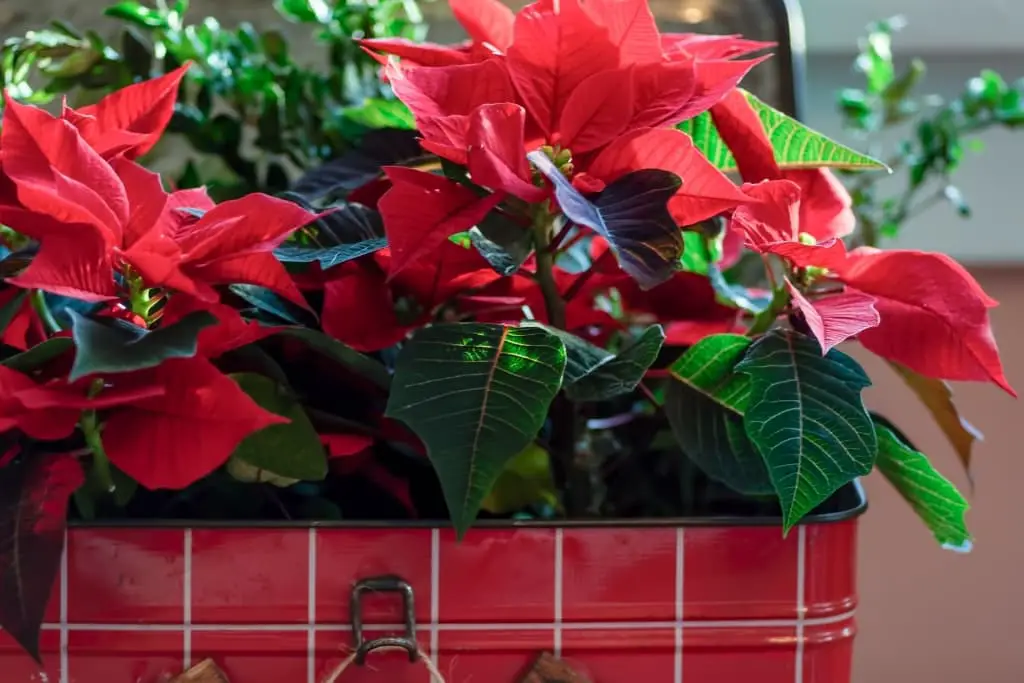 Although many people throw out their poinsettias after the holidays, it's definitely a plant you can keep year-round. (If you feel like red is too Christmas-y, maybe choose white or another color to keep throughout the year.) Be sure to find a warm spot with bright, indirect sun for this tropical plant.
You'll need to pinch back your poinsettia plants in July, and then start to get them ready for holiday blooms in October. Much like the Christmas cactus, poinsettias need complete darkness (12+ hours a day) for several weeks to set buds.
Amaryllis
A dramatic choice for holiday centerpieces, amaryllis' large trumpet-shaped flowers are available in many festive colors, including red, white, pink, orange, yellow, green, purple, and multi-colored.
You'll often find amaryllis plants in flower at your local garden center or grocery store during the holiday season. But if you start early enough, you could even force bulbs to bloom in time for Christmas.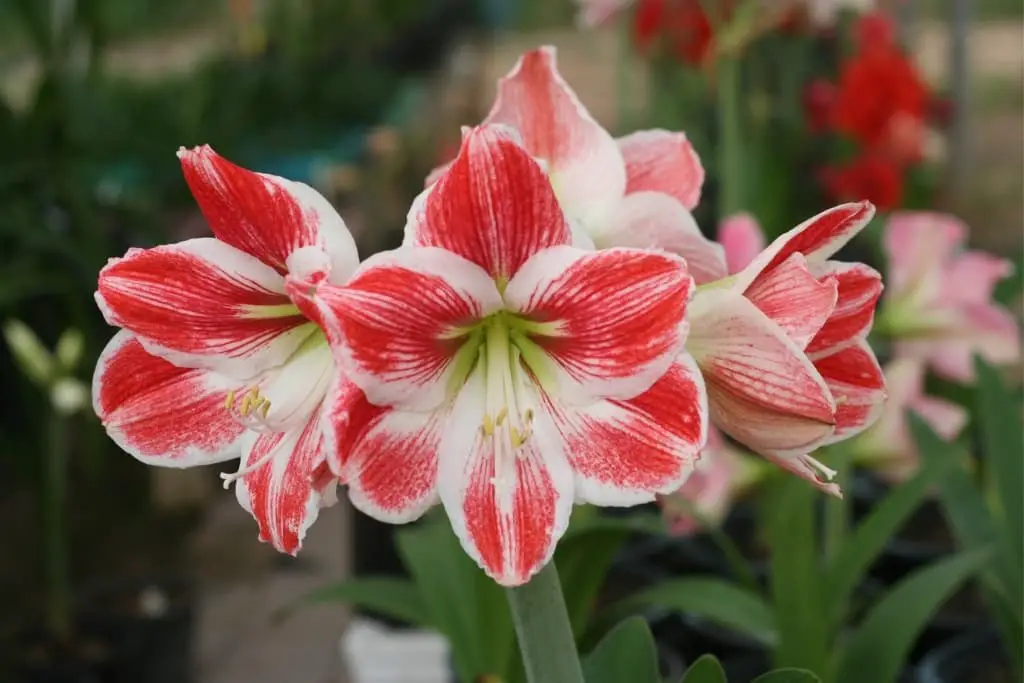 Amaryllis take about 6-8 weeks to bloom after you plant bulbs, so if you start in early November you should have flowers by Christmas.
Bury your bulb halfway in well-draining potting mix, water, and keep it in a cool spot until you start to see growth. At that point you can move it to a warmer, sunnier part of your home.
To regrow next year in time for the holidays, stop watering your amaryllis in mid-August, and cut off the leaves once they're dry. Store the bulb in a cool, dark place until you're ready to start the process over again.
Paperwhites (Narcissus papyraceus)
Like amaryllis, paperwhites are easy to force indoors for the holidays. These petite narcissus plants feature bunches of fragrant white blooms atop glossy green stalks.
Paperwhites can be forced in well-draining potting soil. Or, you can grow them in pebbles and water—use a clear glass vase for an elegant (and soil-free) table display.
With either method, you'll need to keep your bulbs in a cool spot for about two weeks after planting (50-60°F / 10-15°C) before moving them to a warmer area.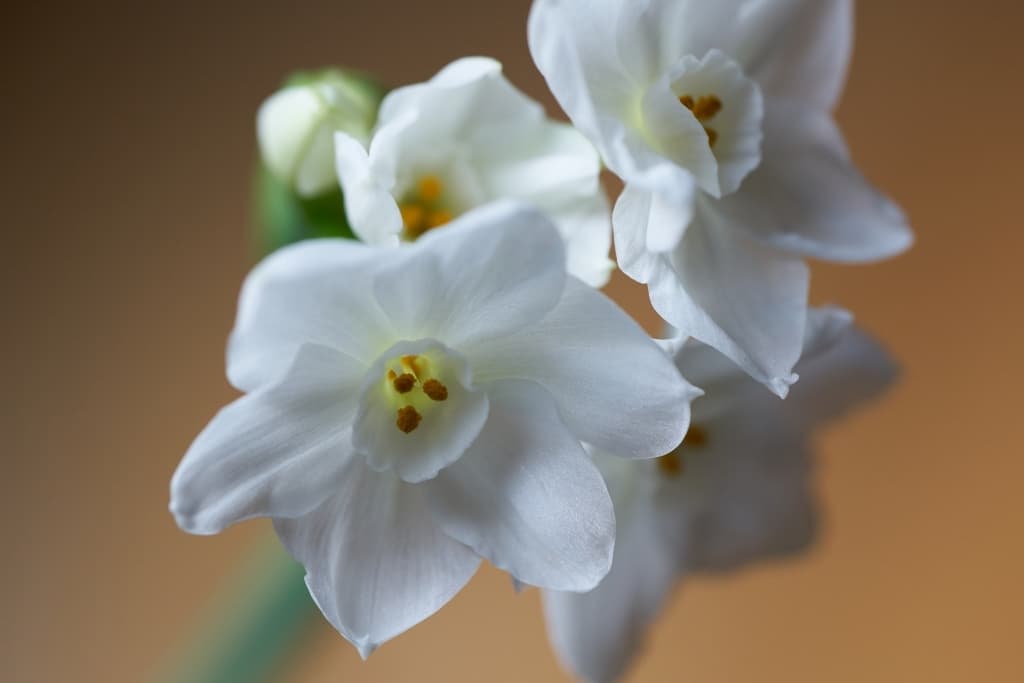 However, unlike all the other plants on this list, paperwhites are notoriously difficult to get to bloom again once they've flowered. You might have luck planting them outside if you live in USDA zone 8 to 10.
If you'd like to save the bulbs to try to force them indoors next holiday season, they likely won't bloom. Just be sure to feed them with houseplant fertilizer diluted to half-strength after you remove the last bloom.
Cyclamen (Cyclamen persicum)
An attractive winter-blooming houseplant, cyclamen can add cheerful color to your holiday décor. This Mediterranean plant's funnel-shaped flowers come in a variety of shades including red, white, pink, lavender, and bicolor.
Cyclamen's blooms aren't its only attractive feature! The plant's heart-shaped leaves are often marked with patterns in shades of silver or white.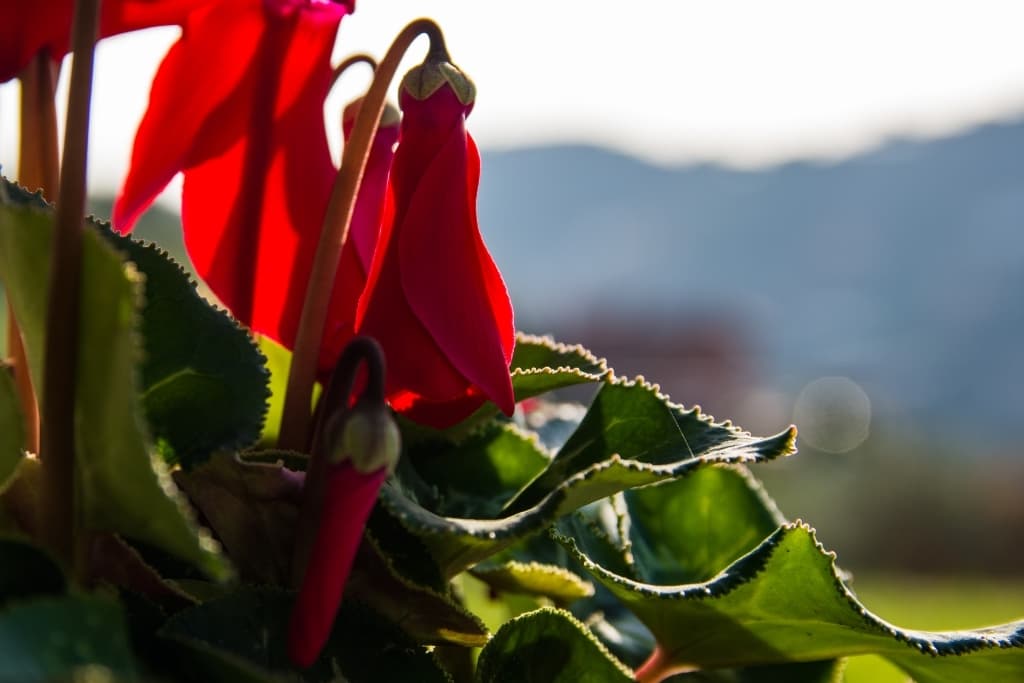 After your cyclamen's blooms start to fade, be sure to deadhead the plant (remove dead flowers at the base of each stem). To make sure it blooms again for next year's holiday season, you'll need to give your plant special attention when it enters its dormant phase.
Once the leaves begin to yellow in the spring, put your cyclamen in the coolest room in your living space and let it rest. In late summer, the plant should begin to grow new leaves, and is ready to return to a warmer, sunnier spot.
Moth orchid (Phalaenopsis)
Orchids have a reputation for being difficult to care for. But the moth orchid is the easiest to grow, making it a good choice for anyone who wants to give orchids a try during the holidays.
Moth orchids are available in the traditional Christmas colors of red and white, but you can also find salmon, pink, purple, or even black varieties.
Your Phalaenopsis just needs a home with bright, indirect sunlight. Water it only when the pot feels light.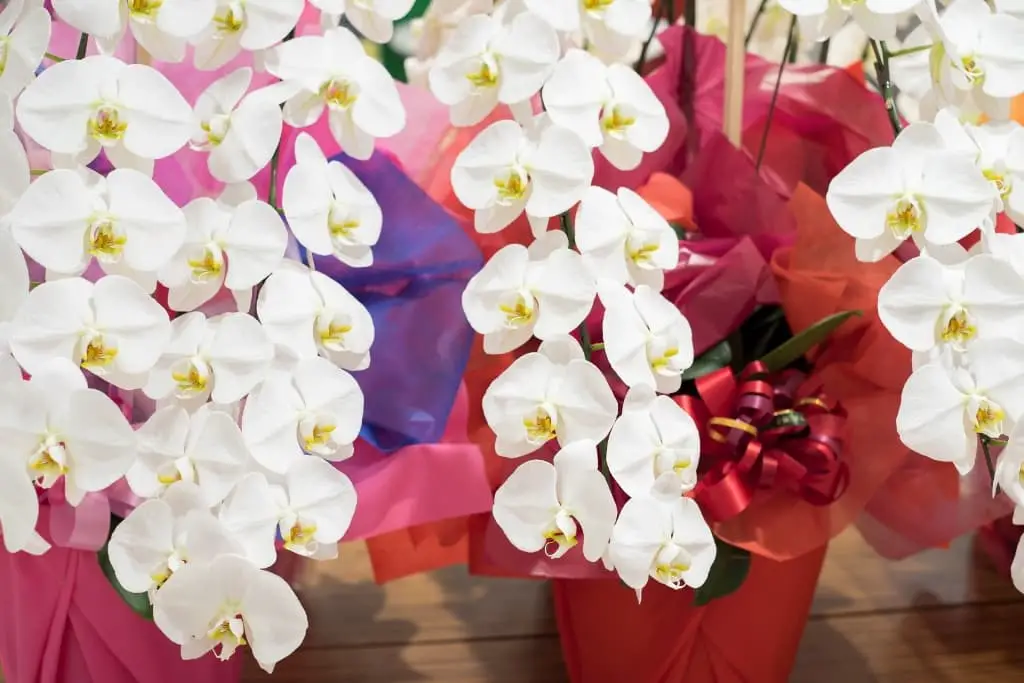 To get your moth orchid to bloom again, trim off the dead flower at the base of its stem. To stimulate flowering, move your orchid to a spot that has at least a 10°F (12°C) temperature drop each night for a month or more.
Frosty Fern (Selaginella martensii)
Frosty fern is often sold during the holidays, as its silver-tipped greenery lends it a very Christmas-y look.
You'll usually see this upright plant in festive pots, sometimes with decorations. This is another excellent Christmas tree alternative for small spaces!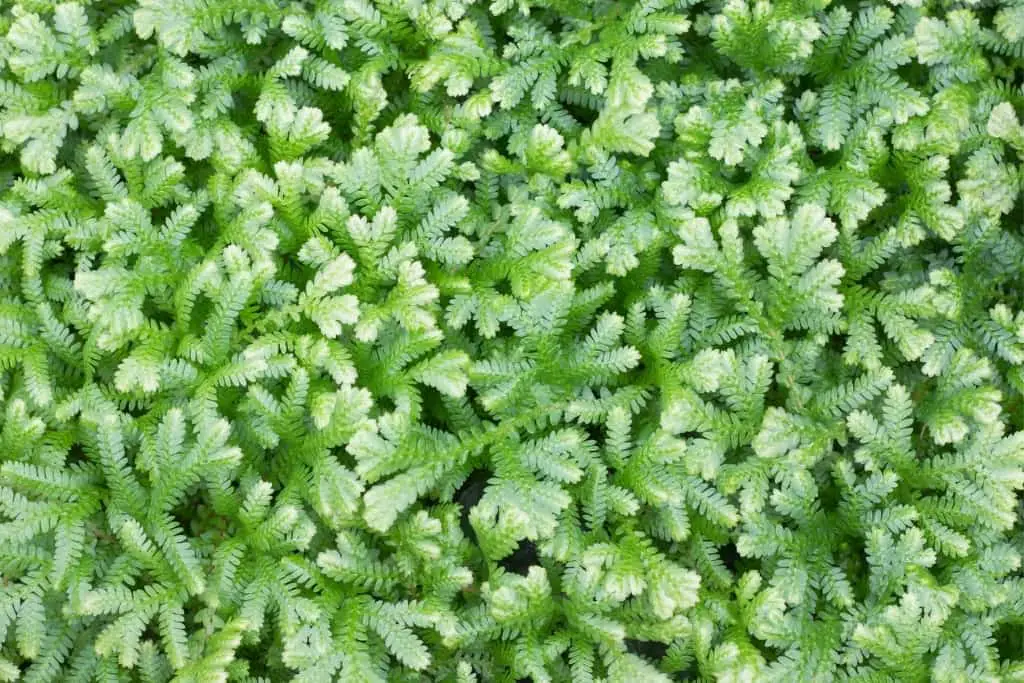 Frosty fern isn't actually a fern at all—it's a spikemoss, which isn't even a moss! Confusing, I know. But this plant does enjoy a somewhat similar environment to many true ferns.
You can grow frosty fern year-round as long as you give it very high humidity and consistently moist soil. A humidifier and a pebble tray can help, but it does best in a closed terrarium.
Don't worry if frosty fern's silvery tips turn green in the summer, that's just due to higher temps. By the time next Christmas rolls around, they'll look frosty again.
English ivy (Hedera helix)
Ivy was a traditional Christmas plant for centuries, but hasn't been as popular in recent years. Why not bring back traditional English ivy in your home for the holidays?
A trailing basket of cheerful ivy can brighten up a corner—it only requires low to medium indirect light to survive. Choose a green-and-white variety to fit right in with your holiday decorating.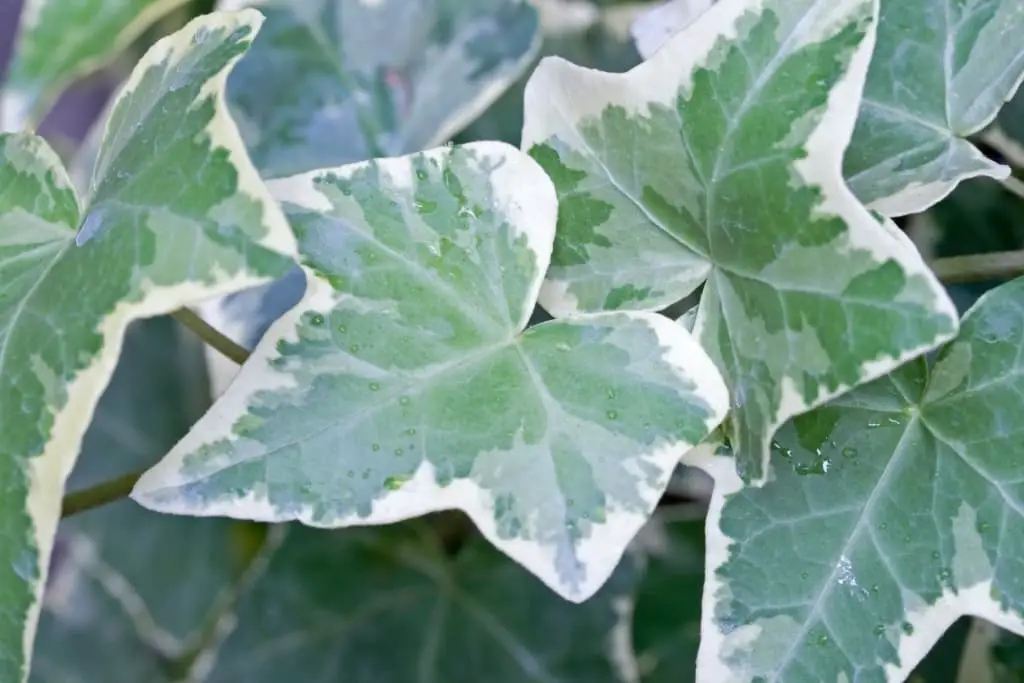 Caring for your English ivy year-round is easy and rewarding, and will bring you years of growth as long as you keep the soil on the drier side.
Be sure to clean the leaves regularly with a soft, damp cloth (or give it a periodic shower!) to remove dust and ward off pests.
You may also like: DIY Indoor Hanging Planters to Beautify Your Home
Flamingo flower (Anthurium andraeanum)
Showy flamingo flowers make a striking holiday display, especially if you choose a red variety! This tropical plant features a brightly colored, waxy spathe surrounding a creamy spadix.
If red isn't your thing, white flamingo flowers also offer a nice contrast with the plant's glossy green leaves.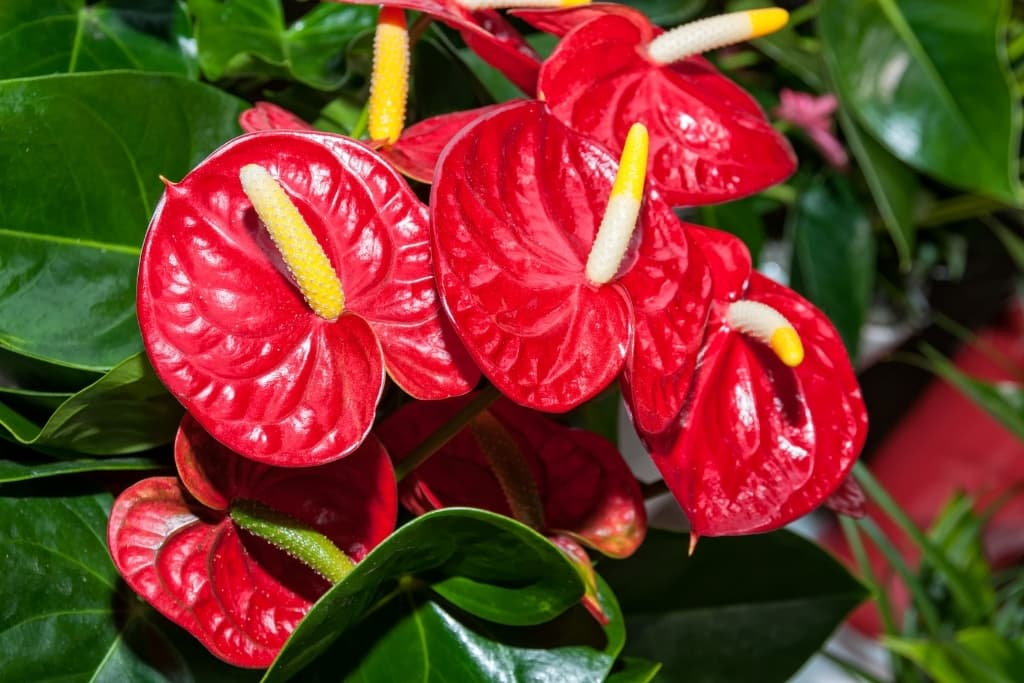 Anthuriums are simple to grow year-round. Just keep it in a bright, sunny spot where it gets indirect light. Flamingo flowers love humidity, so consider using a pebble tray or humidifier.
To make sure your flamingo flower blooms for the next holiday season, keep your plant in a warmer location, preferably around 75°F (24°C)
Holly (Ilex)
Another iconic holiday plant, holly's greenery and vivid red berries make everyone think of Christmas.
You could add holly to your winter décor by hanging a wreath on your front door, but having a live holly bush in the house for the holidays is much more fun!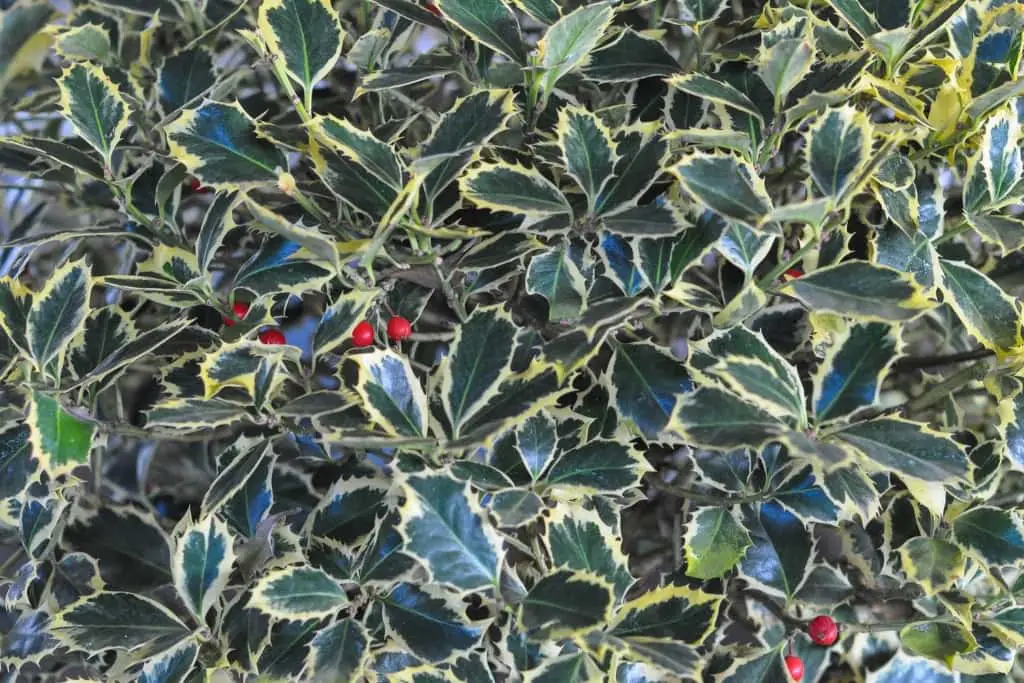 To keep your holly bush for years to come, plant it outside in early spring (holly likes to be planted when it's still cool outside). Most holly plants require both a male and a female plant to produce berries.
For your plant to produce berries without a male, choose a self-pollinating variety like the "Nellie R. Stevens" (find one in the link below).
Red Chinese evergreen (Aglaonema commutatum)
The Chinese evergreen is a popular houseplant for its striking foliage and easy care. But for the holidays, choose a red variety for a pop of color from its vibrant red-and-green leaves.
If you're not a fan of poinsettias, red aglaonema makes a great alternative. Plus, it's a much easier houseplant to keep looking great year-round.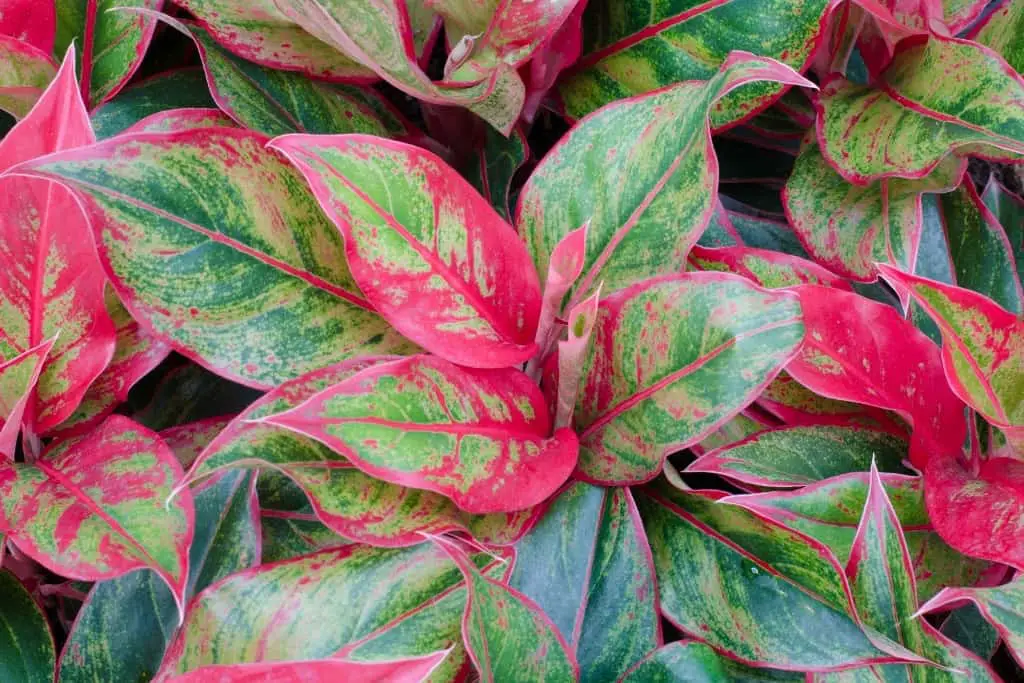 To keep your Chinese evergreen healthy enough to feature in your Christmas decorating for years to come, keep it in bright, indirect light. Your plant will still grow in lower light conditions, but more light will help it produce its red coloration.
This plant likes to dry out between waterings, so you may be able to go weeks before you have to water again. As a bonus, Aglaonema self-propagates, so you'll be able to divide your plant in the future—perfect for giving as gifts!
Peace lily (Spathiphyllum)
If you're a minimalist decorator, or just doing an all-white Christmas theme, peace lily is your plant. Its glossy green leaves and striking white blooms will fit right in with your pared-back, elegant aesthetic.
Peace lily is also a cinch to grow, and it tolerates low light conditions. It doesn't need frequent watering, and the leaves will actually droop slightly to let you know when it needs a drink. How's that for easy?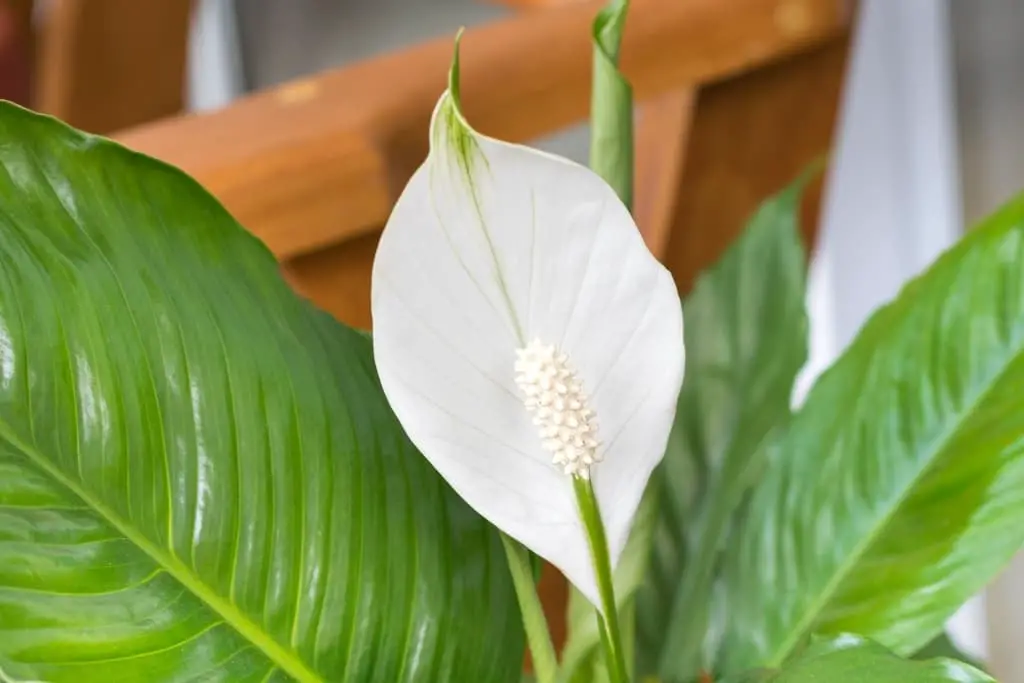 Peace lilies usually bloom in spring, and sometimes in the fall if a plant is kept in optimal conditions. Peace lilies that you buy at Christmastime usually are in bloom off-season because the grower applied a special hormone that forced it into flower.
Although it's unlikely that your peace lily will flower again next Christmas, you can still enjoy its regular blooming cycle for years to come. The attractive foliage will still grow in low light, but your plant will need brighter indirect light to flower.
Christmas rose (Helleborus niger)
Roses blooming at Christmas? Well, almost. Although not a true rose, the Christmas rose does resemble a creamy-white wild rose. This festive holiday plant also features blue to dark green lance-shaped leaves with either smooth or serrated edges.
Christmas rose has a very long blooming season for a winter-flowering plant. Some varieties can bloom from November all the way to February!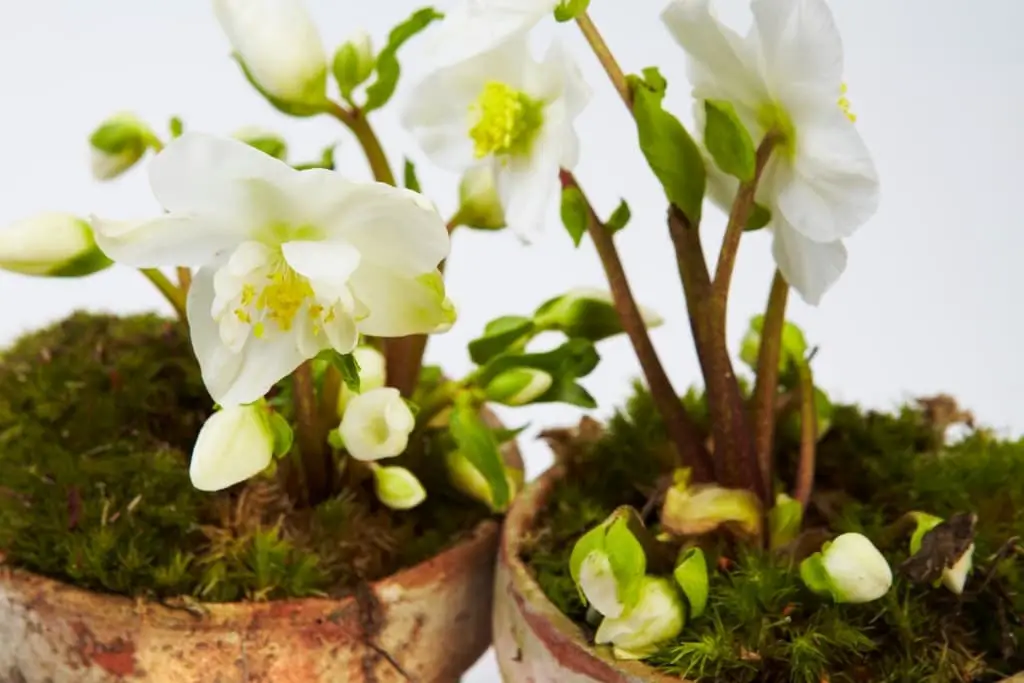 To keep your Christmas rose strong and healthy to bloom again next year, keep it in a cooler spot in your home (55-60°F / 13-16°C is perfect).
Christmas rose prefers bright, indirect light or partial shade. Watering your Christmas rose is the trickiest part of its care. It doesn't like to be overwatered, but never let the soil completely dry out.
Pin this to save for later!
What's your favorite Christmas plant to use in your holiday decorating? Let us know in the comments below!
GET A FREE PLANT CARE TRACKER!
Sign up for the Leafy Little Home newsletter, where we share plant tips and inspiration to turn your space into a green oasis. Plus, we'll send you a handy printable Plant Care Tracker, absolutely free!
By signing up you agree to receive the Leafy Little Home newsletter. Unsubscribe at any time.