Signing up for a plant subscription box is a fun way to grow your plant collection. They make great gifts, too! Here are the best plant subscription boxes you'll love to have delivered to your door.
Have you always wanted to fill your home with beautiful plants? Or maybe you love to garden (or need the perfect present for someone who does). With a plant subscription box, you'll get a package each month with a plant or garden seeds to nurture.
You can choose from basic houseplants or seeds, or pick a box that includes a DIY plant project or useful garden tools. With options including small succulents and air plants, larger potted tropicals, even aquatic and pet-friendly plants, there's a subscription box for everyone's taste.
You'll find an option to fit your budget as well—starting at only $5 a month. Most plant subscription box companies offer recurring monthly billing, or you can choose how many months you'd like (usually 3, 6, or 12 months).
Hundreds of companies offer plant subscriptions and plant-of-the-month clubs, so it can be overwhelming trying to find the perfect one. I've curated the best of the best for you so you don't have to spend hours researching!
Disclaimer: we may receive a small commission when you make a purchase from a link on this site, at no added charge to you. See our disclosure policy for more info.
Houseplant subscription boxes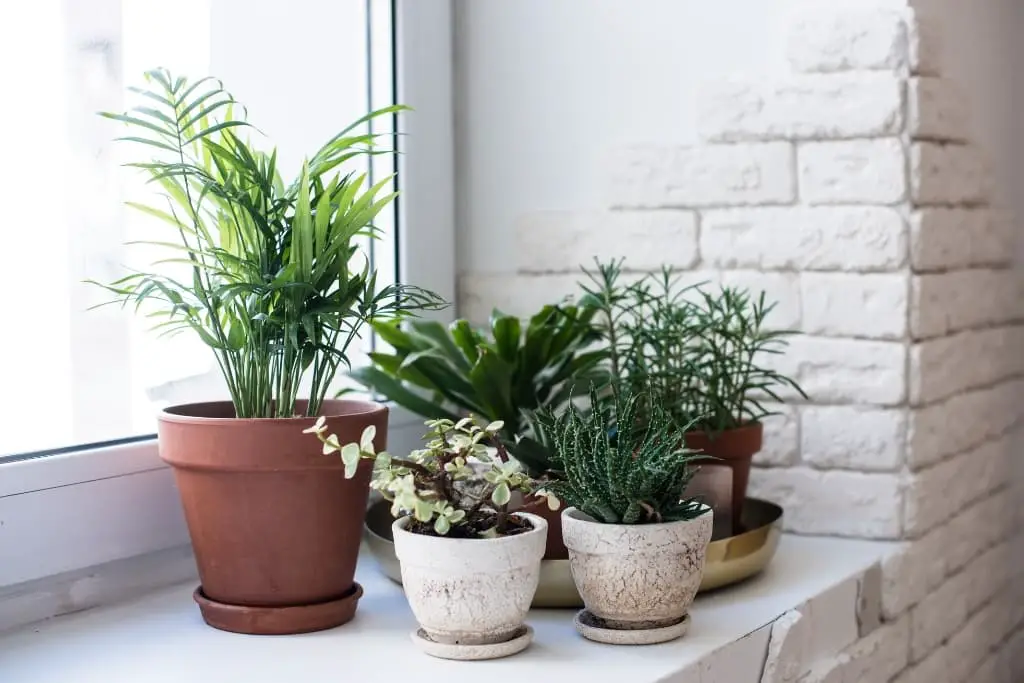 Succulents Box offers monthly subscriptions for 1 to 4 California-grown succulents, one air plant a month, or a combo with one succulent and one air plant.
Basic subscription boxes include a plastic nursery pot for your plant, or you can choose the premium subscription that includes a mini clay pot for each plant. (Air plants arrive with a mini accessory for displaying your plant.)
Prices start at $5.50 a month (plus $5 per box for shipping) for one succulent in a plastic pot. They offer monthly billing, or you can pay for 3, 6, or 12 months at a time to get a 5% discount.
Succulents Box ships to US addresses only.
Shop Succulents Box subscriptions here
You may also like: How to Water Succulents in Containers
---
Trendy NYC plant shop The Sill's plant subscription boxes have been so popular, there's often a waitlist to join!
They offer two subscription options to receive one plant a month, and each is available in small or medium sizes. Pick their Classic Plant Subscription ($50-$60), or the Pet-Friendly option ($55-65). You can choose three- or six-month packages.
The Sill's subscription box prices are a bit high compared to many other programs, but each plant arrives potted in a sleek, modern ceramic planter (you can pick the color).
The Sill ships to the 48 contiguous US states only.
Shop The Sill's subscription boxes here
You may also like: 11 Easy Houseplants for Beginners
---
The Plant Club's monthly subscription boxes include a decorative planter, custom potting soil mix, and fun free extras along with your houseplant.
Check out the short video below to see an example of what you could get in your Plant Club box.
Choose a monthly plan at $39 a month, or get a small discount for ordering 3-, 6-, or 12-month subscriptions.
The Plant Club ships to US addresses only.
Shop The Plant Club's subscription boxes here
---
California-based House Plant Box offers a wide variety of monthly subscription boxes, from the basic indoor plant option to pet-friendly houseplants, seeds and potting soil, and even aquatic plants for your fish tank!
House Plant Box also has options for large houseplants, and pre-potted plants in terracotta planters.
Prices start at $15 a month, and shipping is included.
House Plant Box ships to US addresses only.
Shop House Plant Box subscriptions here
You may also like: 15 Houseplants That Are Toxic to Cats
---
Southern California-based The Succulent Source is a small family operation that have been selling succulents online for over 15 years.
The Succulent Source sends five unique handpicked succulents for $30 a month (shipping is included with 3- 6- and 12-month options). Plus, if you prepay the entire subscription, you can save up to 10%.

They choose 60 succulent types a year for their subscription box, so you're guaranteed to never get a duplicate plant even with a 12-month membership.
The Succulent Source only ships to US addresses.
Shop The Succulent Source subscriptions here
---
Each Succulents Monthly "Succulents With Style" box contains at least one succulent plant, a unique planter, specialized potting medium, and often some fun extras like a plant tag kit.
This box starts at $29 a month (with a 12-month subscription). You'll also receive a hand-illustrated info card, specific to your new plant variety.
Succulents Monthly only ships within the United States.
Shop Succulents Monthly subscription boxes here
---
Tillandsias, the oh-so-unique air plants, don't need soil to grow—they get all the nutrients they need from the sun, air, and water.
If you'd like to start growing air plants, Air Plants Monthly is the perfect plant of the month club for you.
Each month, they'll send you at least four medium-sized air plants. You'll get a variety in each box, including clumps, blooming plants, large plants, or uncommon varieties.
Prices start at $17.99 a month if you choose the 12-month plan.
Air Plants Monthly Club only ships to US addresses.
Shop Air Plants Monthly Club subscriptions here
---
NYC-based Horti is dedicated to putting its customers' plant-related anxieties at ease. With their houseplant subscriptions, they start by sending easy-care plants that are hard to kill, and gradually introduce you to more exotic species. But don't worry—each box includes care instructions for your particular plant.
They offer three monthly subscription boxes: New to Planting, Pet-Friendly, or Horti's Pick, each for $28 a month (plus Priority Mail shipping based on your zip code).
Your plants will usually arrive in a 6″ handpainted clay pot and saucer, though some months Horti may send planting tools or accessories instead of the pot.
Be sure to join their free loyalty program through my link to get 10% off your first Horti order! You'll also be able to start earning Horti coins to get credit toward future orders.
Horti only ships within the US. They offer subscription box pickups in NYC (at a discounted price) as well as hand-delivery to select parts of the city.
Shop Horti subscription boxes here
---
This fun plant subscription box ships a unique plant project each month with everything you need to create a beautiful display. Boxes are packaged with a live plant, all supplies for the project, along with illustrated DIY instructions and plant care tips.
Check out the short video below for an example of a past project:
Plant project subscriptions start at $45.83 a month (with free shipping) for a 12-month subscription.
My Garden Box only ships to US addresses.
Shop My Garden Box subscriptions here
---
Gardening subscription boxes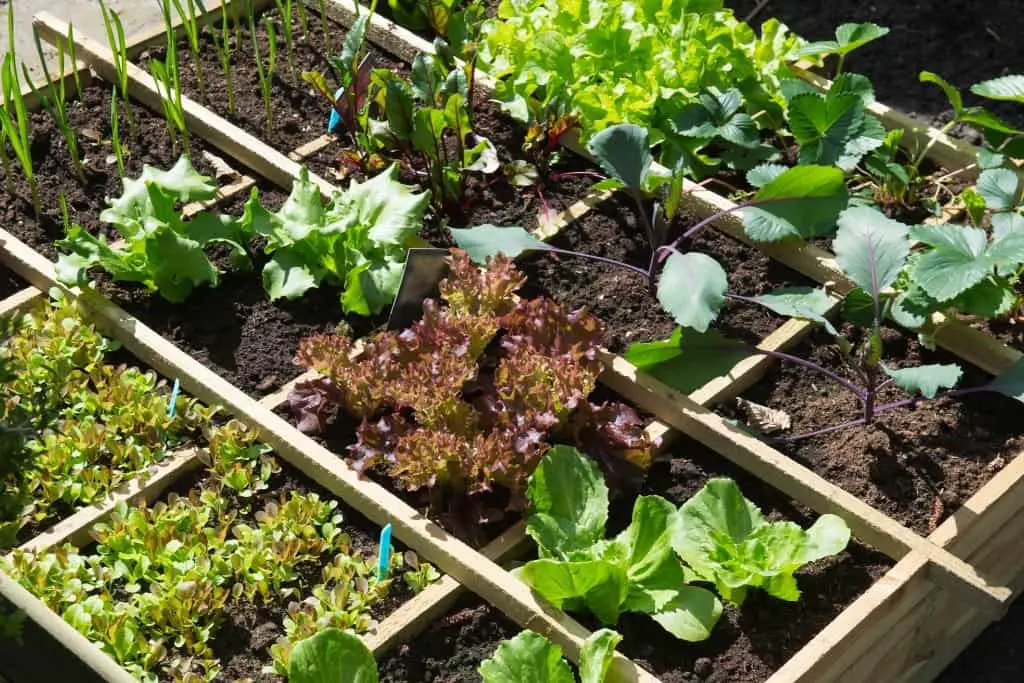 Australian seed company Easy Come Easy Grow wants to help you start growing veggies and herbs, whether you have a large garden plot or just a sunny spot for container gardening.
Each month, you'll receive three packs of different herb or vegetable seeds. They'll all be in season for planting, and the included grow cards offer tips on caring for your plants.
All seeds come from Australian companies, and prices start at $9.17 a month (plus a small delivery fee) for the 6- and 12-month plans.
Easy Come Easy Grow only ships within Australia.
Shop Easy Come Easy Grow's subscription boxes here
---
Urban Organic Gardener's Seed Club Pro subscription box is pretty unique—it curates its offerings to your specific situation! Let them know a few details about your gardening experience and where you'll be planting your seeds, and you'll get a monthly collection of seeds and gardening supplies tailored just for you.
Seeds are heirloom, open-pollinated, non-hybridized, and GMO-free. Pro Membership subscription boxes start at $14.83 a month.
Urban Organic Gardener only ships to US addresses.
Shop Urban Organic Gardener's subscription boxes here
---
Texas-based Bloomin' Bin has a variety of subscription boxes for novice and expert gardeners alike. All boxes include their in-season seeds of the month— you can choose all vegetables, all flowers, or a mix of both.
With their Just Seeds Premium subscription (from $6 a month plus shipping), you'll get 2 to 8 packs of seeds, plus a seed binder to hold their laminated care sheets for each plant.
Don't forget to add your birthday at checkout to get extra seeds in your birthday month!
Bloomin' Bin only ships to US addresses.
Shop Bloomin' Bin subscription boxes here
---
Pin this to save for later!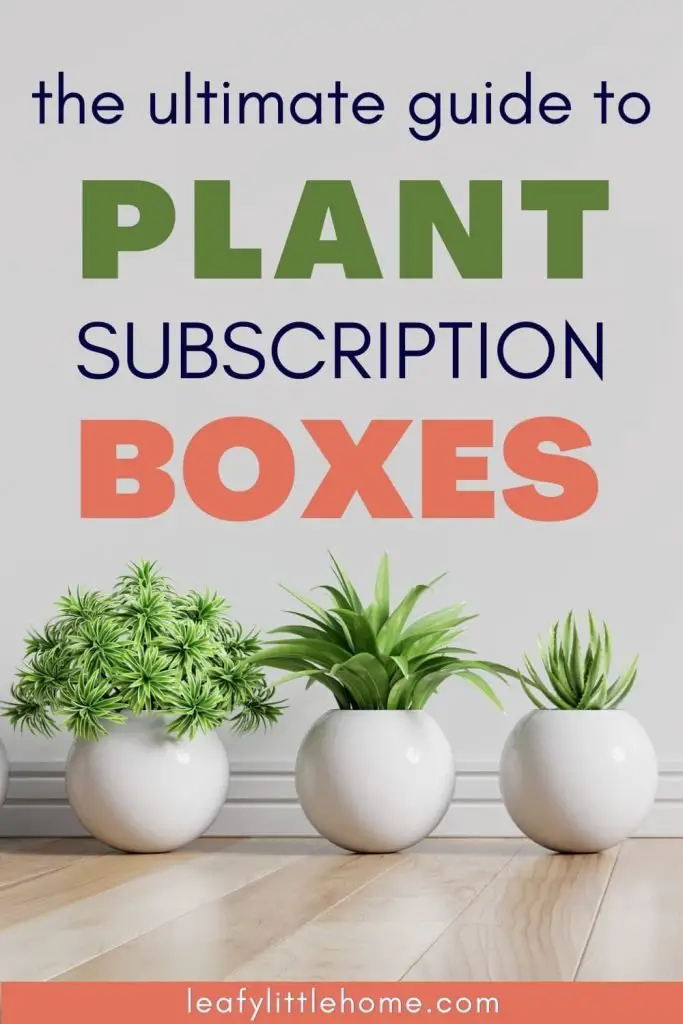 Have you tried a plant subscription box or a plant of the month club? What did you think? We'd love to hear about it in the comments below!
GET A FREE PLANT CARE TRACKER!
Sign up for the Leafy Little Home newsletter, where we share plant tips and inspiration to turn your space into a green oasis. Plus, we'll send you a handy printable Plant Care Tracker, absolutely free!
By signing up you agree to receive the Leafy Little Home newsletter. Unsubscribe at any time.